WEBMASTER CONTACT INFORMATION
- My wife and I completed the sale of our Maine home and we are now settling into our California home to be nearer our grand children. With this move the only valid email for
webmaster Larry Westin
is
westin@westin553.net
- several areas on my Batcat and Stinson pages show contact information for me. I'm in the process of updating those areas to show my new California contact information. Some pages may still show our previous, outdated Maine address, phone number and email. The only valid contact information for webmaster Larry Westin, 21721 Verde St., Tehachapi, California 93561, phone (661) 823-4707.
WELCOME to the Family Westin Homepage


Our Personal Quotes:
Larry - "May I Always treat All others with Dignity and Respect."
Susan - "If you Fall Down 6 times, Get Up 7..."

Larry & Sue Westin's e-mail address is
westin@westin553.net
* * * * * * * * * * * * * * * * * * *

BATCAT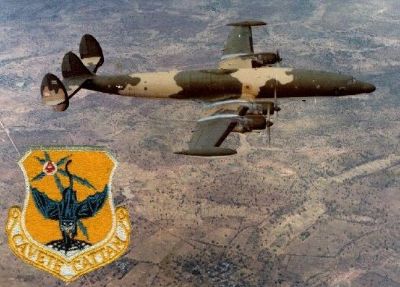 From Nov. 1968 to Sept. 1969, I flew as a crewmember on Lockheed EC-121R aircraft, out of Korat Royal Thai Air Force Base. Official USAF unit designation was the 553rd Reconnaissance Wing, with the USAF code name
Batcat
.
Click here for the
553rd Reconnaissance Wing - BATCAT - main page
Last updated 03/23/15
* * * * * * * * * * * * * * * * * * *

Click here for extensive information about the Stinson 108 Voyager and Flying Station Wagon plus other Stinson's including the models HW75, HW80, 105, 10 and 10A, O-49, YO-54, and the Stisnon model 76 L-5 Sentinel. I use a different server for the Stinson 108 data. Stinson area started Oct. 1994, Last updated 03/21/15.
Images of Classic General Aviation Aircraft 1940 - 1965. Most of these are "period" or factory images taken during the quarter century between 1940 and 1965 known as the classic period of general aviation. Added 01/01/02, Last updated 02/15/15.
Images of Consoldiated/ Convair/General Dynamics Aircraft. Available are images of the B-24 Liberator, C-87 Liberator Express, model 39 Liberator Liner, B-32 Dominator, B-36 Peacemeaker, WB-57F (Modified Canberra), XB-46, B-58 Hustler, YB-60Jet Peacemaker, BT-13 Valiant, XC-99 Transport version of the B-36, including images of the dismantling for restoration, L-5 Sentinel, L-13, PBY Catalina, PB2Y Coronado, T-29 Flying Classroom, Convair 240, 340 and 440. Most of these are "period" images, taken when the aircraft was new or in service, rather than museum examples. Added 01/03/97, Last updated 05/26/14.
Images of Propeller Driven Transport Aircraft. Available are images of various propeller driven transport aircraft. Included are the AVRO York, Barkley-Grow, Beech 18, Boeing 307 Stratoliner, Boeing Stratocruiser, Convair XC-99, Canadair North Star, Convair 240, 340 and 440, Curtiss C-46 Commando, DeHavilland Dove, Douglas DST, DC-3 and C-47, including cockpit and interior views, DC-4, DC-6, DC-7, Douglas C-124 Globemaster II, C-133 Cargomaster, Fairchild C-119 Flying Boxcar and C-123 Provider, Focke-Wulf FW200, Grumman Widgeon, Grumman Goose, Handley Page Hermes, Lockheed Constellation and Super Constellation, Lockheed Hercules, Lockheed Electra, Lockheed Constitution, Martin PBM3 Mariner, Martin 202 and 404, Northrop C-125 Raider, Republic XR-12 Rainbow, Sikorsky S-51, S-55 and S-58 helicopters. Most of these are "period" images, taken when the aircraft was new or in service, rather than museum examples. Added 07/28/98, Last updated 02/01/15.
Aviation Links to other aviation aviation sites on the Internet. Added 05/11/98, Last updated 12/30/14.
Free Speech is a MOST IMPORTANT RIGHT - "THOSE WHO WOULD GIVE UP ESSENTIAL LIBERTY TO PURCHASE A LITTLE TEMPORARY SAFETY, DESERVE NEITHER LIBERTY NOR SAFETY." -- Benjamin Franklin, 1759 - My personal, rather conservative, thoughts on free speech are presented here. There is an email link at the end my short statement on free speech. Feel free to present a different opinion, I respect the right of others to have a different opinion. Last updated 06/25/00.
U.S. and Maine Links to the Whitehouse, Senate, House of Representatives and some other government agencies, also links to the State of Maine, the governor's office, State Senate and State House. Last updated 06/12/13.
Hosting for this homepage is provided by iPage Web Hosting. If you are interested
in starting your own homepage you can "Click Here" below for more information
about iPage Internet hosting. If you decide to open an account by "Click Here" below,
then iPage pays me a commission after you open your account. IMPORTANT there is
nothing on my homepage you need to pay to view. This link provided only if you are
interested in starting your own homepage, which helps me pay for the costs I incurr.